Optonet Vision Unit Documentation
Please note that this User Guide is being currently updated; new sections will be added shortly.
1.2.
Step 2. Installation and Calibration
The Optonet Vision Unit is a Web-based software that does not require installation in a computer. It can be downloaded as an App in mobile devices and TV players.
Access from a computer: We recommend using the Chrome browser. You can open it with the following link and introduce your login details.
However, you can also install Optonet as an application via Chrome following below the steps below:
– Open the vision Unit Website: https://ubm.optonet.es/
– Tap Chrome's overflow menu (the three dots icon)
– You will then be presented with an "Install Optonet" option.
– Select install and the app should relaunch in its own window and appear in your app list and on your desktop: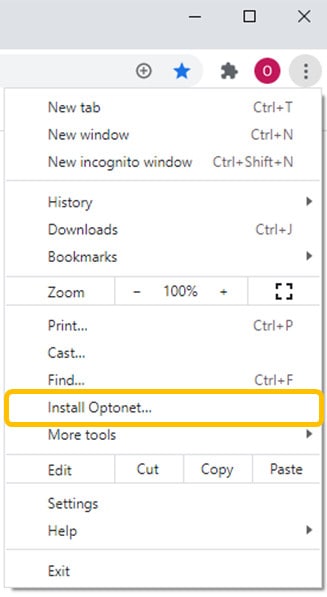 Access from a tablet, phone or TV player: download the Optonet Vision Unit app from the device's store (App Store, Google Play or Amazon Appstore) and introduce your login credentials.
When first opening the Optonet Vision Unit, you will be asked to follow simple steps for calibration. A small ruler and measuring tape/laser is recommended (See calibration instructions: …..)